Nelle L'Amour's Gloria's Secret Blog Tour


Today I'm delighted to welcome Nelle L'Amour's Gloria's Secret Blog Tour to Stick Girl Book Reviews. This happens to be a tour that I'm hosting and a book that I thoroughly enjoyed and can't wait to share with you!
Gloria Long is the beautiful, self-made CEO of Gloria's Secret, the world's largest retailer of lingerie. While her global emporium is famed for selling erotic fantasies, Gloria's emotional scars inhibit her own sexual desires. Her powerful defenses melt when she meets Jaime Zander, the devastatingly gorgeous advertising guru, who is determined to win not only her account but also her heart by awakening her sexuality.

A man who has never heard the word "no," Jaime takes his creativity to the limit to make Gloria fall apart and fall for him. But major obstacles stand in the way--Gloria's Secret's ruthless Chairman, who covets Gloria and is out to destroy Jaime, as well as his manipulative sexpot daughter, who wants both Gloria's job and her hot, new love. Complicating matters further, Gloria harbors a dark, horrific secret, that when exposed, will shatter both her empire and her life. Will she be able to have it all or will the walls come tumbling down?

This approximately 225-page novel will be followed by the suspenseful and steamy sequel, Gloria's Revenge, in October 2013
My 5 Star Review ~
I was provided with an ARC of Gloria's Secret in exchange for an honest review. I've never read anything by this author but you can bet your arse I will be reading more from her. I went into this book blind ~ not knowing the author's style and with no expectations whatsoever and I have to say I was certainly doing this.......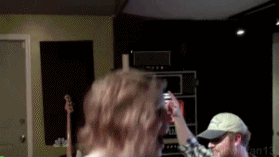 Gloria is the CEO of Gloria's Secret which sell's affordable high quality lingerie! She built her Company from the ground up and made it into a highly successful venture! The book starts out and immediately I was .....
I was like seriously what just happened there? The book delves into Gloria's childhood which was far from picture perfect. Along with her best friend, Kevin, she has made something out of her life but she has a secret and it's a BIG one and it is ...
Gloria is in New York for Gloria's Secret Annual fashion show along with interviewing major advertising companies to kick of her new line of FSOG inspired lingerie and other things. It is during an elevator ride to her next appointment when her eye's first land on Jaime ~ and let me tell you her first introduction to him had me...
I seriously was laughing and thinking I would've DIED! Jaime is all that and a bag of chips ladies. He is the kind of man that makes ladies want to .....
He is a head turn with those denim blue eyes! When they meet up again I can pretty much guarantee that Gloria was beyond....
and then the ride begins! This book had an alpha male and some very hot and steamy .....
It also came with it's very own want to ....
spoiled little rich girl, Vivien, who happens to be the Chairman of Gloria's Secret Board! I was literally ....
when I learned more about Vivien & her father and how they actually "fit" into this story. Jaime didn't have the pristine childhood one would think regardless of his wealth. There was a point in this book where I wanted to.....
when Gloria witnesses something and then I wanted to ...
right along with her. Gloria needs control in her life and Jaime wants to take control of her life but at what costs? and I keep wondering what his real motivations are? I feel like there is a "hidden" agenda that has yet to be revealed. A return trip to Paris for Gloria was another very .....
point in this book. She has just suffered a devastating blow and BAM another hit's her. Of course, there were a few surprises in Paris one that made me want to ...
and another that had me.....
I was freaking ESTATIC! Of course I got to the end and I was .....
wait, it just ended LIKE THAT???? NO WAY I need to know what happens NOW! I was totally......
It was a great read for me! I loved the suspense but I also liked the fact that Gloria was thrown off her game. She is seen as such a powerful woman and when Jaime comes into the picture he surely....
Gloria so much so she was often flustered! Gloria's Secret is a very sexy read that will have you keep turning the pages trying to fit all the puzzle pieces together but leaving you without a few key pieces. It's a story about passing control & trust onto someone else but at what price? I can't wait for Gloria's Revenge to see what happens next with this. There are still secrets to be revealed and the repercussion's from such secrets make me wonder what the downfall will be. Will Gloria open her heart and let "love" in? Is it truly love? and will her past come back and make her pay for something that happened a long time ago? Well I honestly don't know that but I trust Nelle will answer my questions with her next book! A 5 star sexy read set in New York City & Paris! The secondary characters range from warm & funny to downright shady & disgusting. There will be some you want to ...
and a couple you will totally want to ...
I recommend this one if you like a little suspense tied into your romance as well as one hot alpha male who will have you fanning yourself many times throughout this book! 
Enter the Rafflecopter Below for a chance to win a $25 Amazon Gift Card & Kindle Copy of Gloria's Secret................
a Rafflecopter giveaway
Nelle L'Amour lives in Los Angeles with her Prince Charming-ish husband, twin teenage princesses, and a bevy of royal pain-in-the-butt pets. A former executive in the entertainment and toy industries with a prestigious Humanitas Award to her credit, she gave up playing with Barbies a long time ago, but still enjoys playing with toys…with her husband. While she writes in her PJ's, she loves to dress up and pretend she's Hollywood royalty. She aspires to write juicy stories with characters that will make you both laugh and cry and stay in your heart forever.
She is also the author of the bestselling erotic love story, Undying Love, and the erotic romance series, Seduced by the Park Avenue Billionaire. Writing under another pen name, she is the author of the highly rated fantasy/romance Dewitched: The Untold Story of the Evil Queen and the sequel, Unhitched.
Nelle loves to hear from her readers.

Connect to her at:

To purchase Gloria's Secret on Amazon following this ink:

To add Gloria's Secret to your Goodreads TBR click here:
Be sure and add Gloria's Revenge the sequel to Gloria's Revenge to your Goodreads TBR also: